Take someone close to you and head to the Kyjov Brewery Hotel , which is connected directly to the brewery. You will taste a golden drink and treat yourself to good food, including local and beer specialties. Kyjov is also a wine region, so you can freely switch to white or red wine.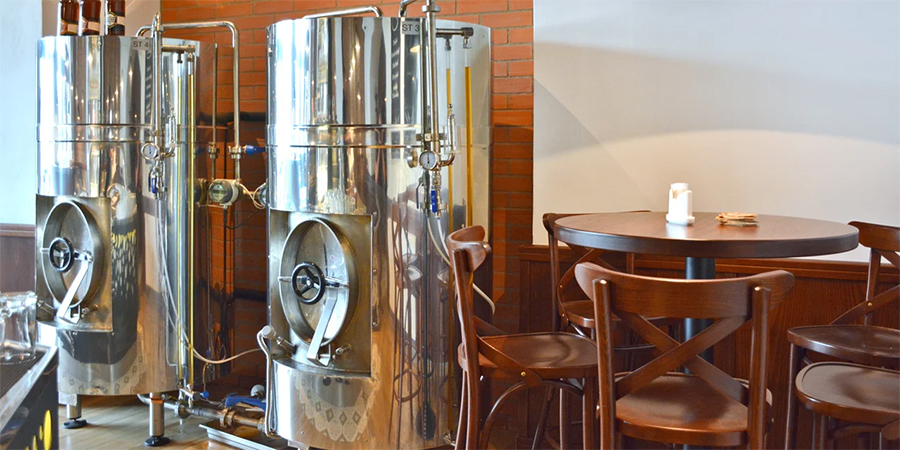 Excursion and unlimited beer consumption
As part of advantageous packages, a 45-minute tour of the production plant awaits you with a detailed explanation and an equally detailed tasting of beers directly from the tanks. You can choose from Pilsner and Bavarian-type beers, which are unfiltered and unpasteurized. You can enjoy a beer daily from 11:00 to 22:00, and on Sundays until 21:00.
Very popular beer spa
The hotel has a beer spa . You can choose from several variants with any bathroom for two or pay one more during your stay. Bathing in oak and larch baths will be an unusual relaxing experience for you, and during it you will be able to drink as much beer as you can.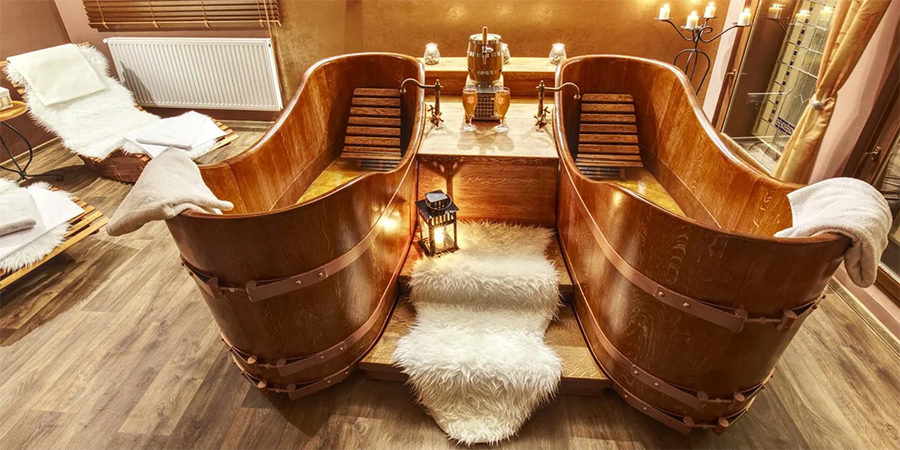 The following baths are available:
Hop bath
A warm bath, to which we will add a boiled hop-malt component, which is much richer in beneficial substances for the body than a beer bath. Malt skins are also included, which gently massage the skin and thus perfectly remove old skin. The beneficial effects of hops have been known since ancient times. It has a beneficial effect on anxiety, tension, irritation, inflammation of the nerves, skin. It has antibacterial and antifungal activity. It wonderfully softens and smoothes the skin.
Yeast bath
Live brewer's yeast Saccharomyces cerevisce, which is rightly called the 21st century bioculture, is added to the warm bath. He heals from the inside out. Brewer's yeast contains a comprehensive complex of B vitamins and has been a proven means of improving the skin for years, which rejuvenates, turns off and eliminates acne. Baths and wraps cleanse the skin and reduce eczema and lichens. After the bath, the skin is beautifully smooth, taut and nourished. You can also use cosmetic products with their content: hair shampoos, balms or body lotions. You can buy the best ones in our beer spa. The beer spa combines the beneficial effects of beer cultures, vitamins and herbal extracts.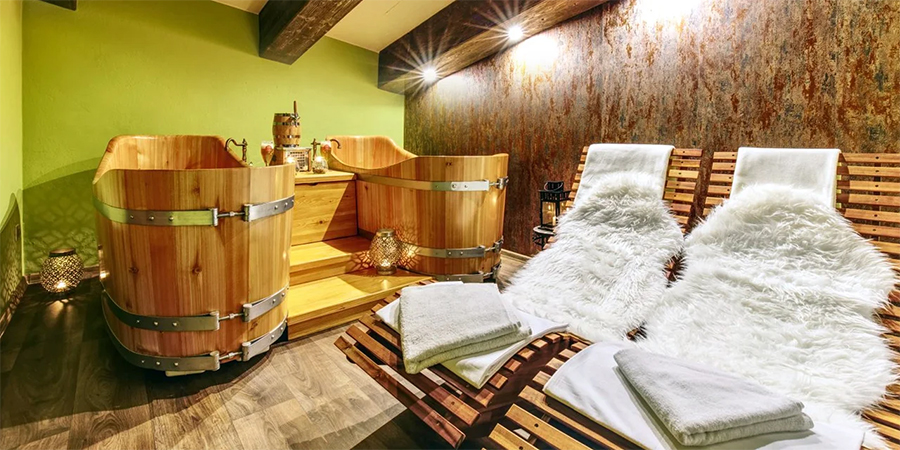 Herbal bubble bath
Warm relaxing bubble bath full of herbal essences. It relaxes the mind and muscles. Harmonizes and promotes detoxification of the body. It is comfortably large for 2 people.
Herbal steam vat
The herbal vat is one of the most natural and effective methods of detoxification and cleansing of our entire body. During the procedure in the vat, the skin pores are opened as much as possible and thus the medicinal herbs and oxygen are perfectly penetrated into the body. The process of oxygenation of tissues and organs is improved and the proper functioning of all organ systems is stimulated, metabolism is normalized and the skin is rejuvenated.
Proper application in an herbal steam bath generally improves a person's mental state. It cleanses, detoxifies, regenerates, harmonizes the body, spirit and mind. This process strengthens the body's entire immune system, improves thermoregulation and metabolic disorders.
Comfortable rooms and half board
You will stay in comfortable rooms with private bathroom. The hotel is wheelchair accessible and there is a lift inside. The hotel also has a squash court. Of course, you can connect to Wi-Fi everywhere to browse the Internet. You will eat half board. A hot and cold breakfast buffet is served each morning, and dinner is available from a menu available in advance at reception.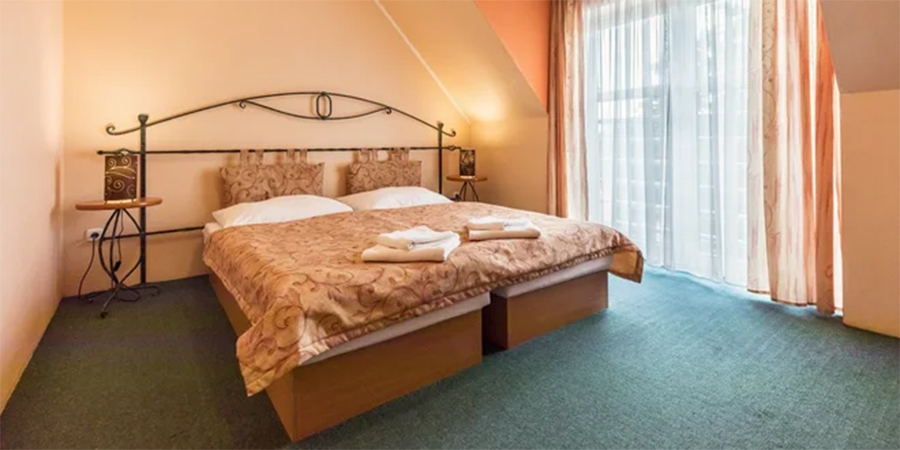 Trip tip
Auschwitz Dam
Go swimming and sunbathing on the Auschwitz dam. It is hidden in the picturesque valley of the Klimentský brook, on which the Klimenstký pond also lies a short distance away. The water reservoir is not only attractive for swimming, you can also go canoeing or fishing here. Pleasant beaches can be found mainly on the left bank of the dam. A blue marked hiking trail will take you here, which winds from Auschwitz to the Koryčanská chapel. If you get hungry from water games or walks, go to the kiosk above the dam for refreshments.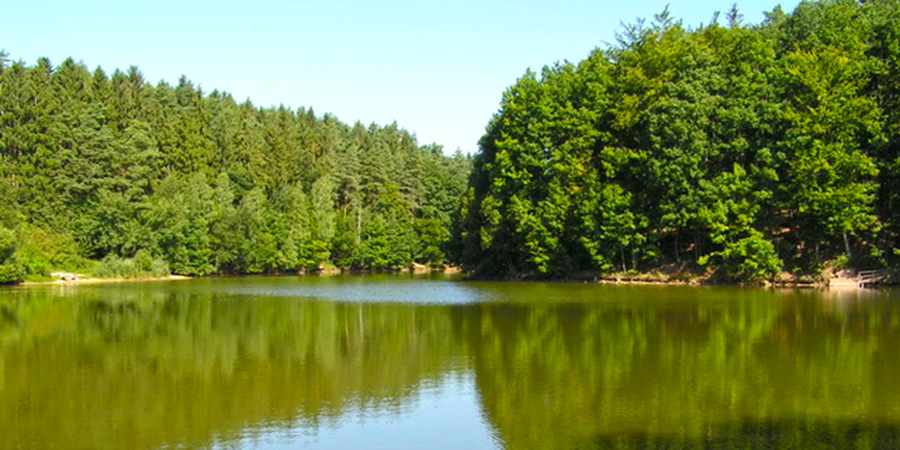 Beautiful small beaches, especially on its left bank, serve for sunbathing, along which the blue marked tourist route winds from Auschwitz to the Koryčanská chapel. There is a kiosk just above the dam, where you can buy snacks in the summer season.